What is Colon Hydrotherapy?
Colon hydrotherapy is referred to as colon irrigation, colonics, colon therapy, or high enemas. All of these are names for Colon Hydrotherapy devices, which use safe filtered, temperature controlled water for inner cleansing.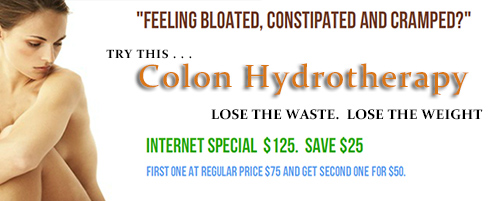 Colon therapy is not mysterious. It is a useful adjunct to detoxification in a variety of illnesses in which the accumulation of toxins plays a major or contributory role to a person's ill health; therefore, washing the lining of the bowel is just as sensible as maintaining cleanliness in other parts of ourselves and, in the modern living environment, there is a tendency for the accumulation of toxins, increased constipation, increased concentration of the residue in the bowel because of a shortage of roughage in the diet; thus cleaning and irrigation is an advantage.
Yes. They are a safe, simple and naturally effective way to cleanse the body and puts you in control of your own health and wellness. Every organ in the body eliminates its toxins through the colon or urinary tract. If your colon is sluggish or clogged, these toxins may not be eliminated properly and be partially reabsorbed into the body. If healthy, your bowel eliminations should be long, snake-like and float.
Colon Hydrotherapy is not a cure, but a valuable procedure used to assist, the body for a wide variety of different colon-related conditions. By re-toning the bowel wall & improving colon functions, the entire body is able to function more efficiently.
Common effects may be: sinus drainage, a loosening of mucus in the lungs, improved range of motion, as well as skin tightening, feeling younger, posture automatically improving, abdomen softening and getting smaller, a relief from headaches, less fatigue and improved bowel function. The main benefit received by releasing the toxic waste is that we remove the number one source of disease in the body. The bowels works more efficiently in the elimination of waste, and nutrient absorption in improved.
Most people remark on how clean & light they feel. "Like I just took a bath on the inside!" Increased energy and feeling of well-being are the common responses. One session will empty part of the colon. As many Doctors have written in articles, two sessions the first week, two sessions the second week, and one a week for the next eight weeks. After the fifth session, the colon starts to release the old, sludge waste. After completion of all twelve sessions, most clients return every couple of months for maintenance purposes.
An impacted colon can cause discomfort and cramping may occur as the colon contracts to expel waste. Once the major impaction is removed, many actually find a session pleasant. This procedure is not embarrassing. Your dignity is completely maintained with proper draping in a private room. The odor during your bowel movements does not exist with FDA Registered Colon Hydrotherapy Device's! There is No Odor!!
It may be more comfortable to refrain from eating at least two hours before your scheduled appointment. Drinking lots of good water and juices is a great idea.
Give us a call today.
Learn more about us or to schedule a consultation.